What Matte painting is?
1 min.
---
Matte painting is the blend of several images or videos in the same scene, you can use 2d, 3d and posproductions applications, like illustrator, photoshop or after effect, you can create compositions that the other way will be hard film them. This technic is used specially in films, tv commercials, posters and other situations.
It isn´t a technic really, it the mix of others, There isn´t a pattern following in order to do this compositions, but yes several concepts which are necesary to know when you begin a project about matte painting. In first you have to define the focus light in order see the lights and shadows that proyect each element and blend them. Other important point is achieve an harmony tone, saturation and shine between all elements thanks for adjustment layers and blend mode that give photoshop or after effects for example. It´s very important the layers mask too when you create your picture in order to can join elements from different photos.
Other technic very useful for the final composition is digital painting that with photoshop tools like dodge and burn you can play with light levels in the scene or increase the contrast, allow control the exposition in natural way.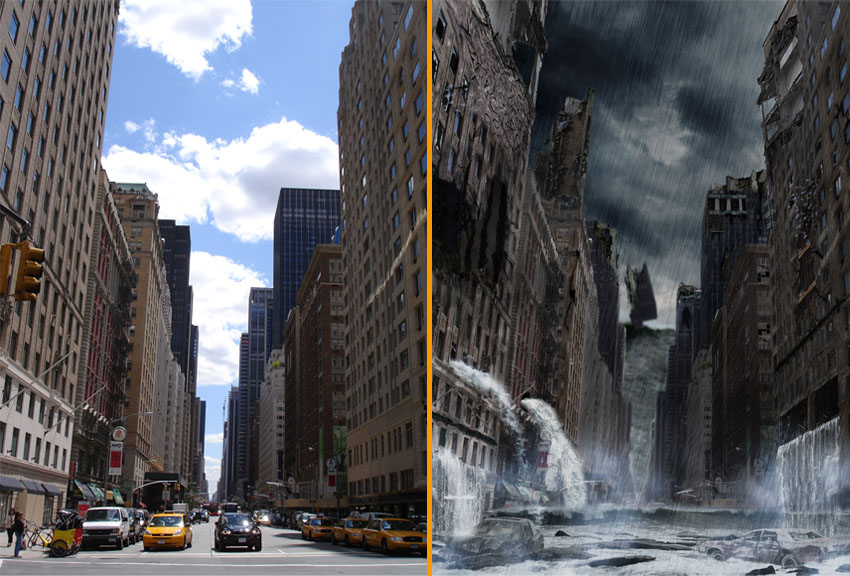 Dylan Cole or Yanick Dusseault are two talents people who hands the style and they have collaborate in great productions like "Pirate from Caribbean", "Narnia" or "Lord of rings" creating surreal images. Here you can see to Dylan Cole, how work this technic for great productions in films.
GD Star Rating
loading...
Categoría/s:
Graphic Design